Without Walls TALKS: Producing in art and tech in the pandemic, some Robot Selfie reflections, by Jocelyn Spencer-Mills
20 January 2022
Jocelyn has a particular interest in how/where artworks and audiences meet. Touring Producer for Kaleider and a Trustee of Unlimited Jocelyn works in performance, installation, participation, play and public space. She reflects on the pandemic and its impact on art and tech.
It's a baking hot day in May 2021. I'm standing across from a giant canvas held up by a scaffold frame on the face of the new Brighton Metropolitan College building. The structure is 12m high and 10m across. It looks much bigger in real life than I expected. It's my first time out and about since Covid began.
It's also my first outing with this new artwork and I'm people watching. A group of young women pose for selfies on their phones next to the giant canvas.
I have a realisation, a moment of remembering after quite a lonely 15 months that this is why I do this job. This is why I'm here. Witnessing the moment artworks and people meet each other and interact. Meeting people where they are and extending an invitation to them to play.
This particular artwork is an installation called Robot Selfie and it invites people to be part of a giant mural, which a robot paints on this gigantic canvas. People submit their selfies via an online portal, and the robot collects them and paints them – it was an idea developed during lockdown as a way of bringing people next to each other, a symbol of community, solidarity and togetherness in a time of isolation.
"It felt special to be part of bringing people back to work and to bring audiences together."
New technologies mean we have more options of materials to work with and platforms to platform. It creates opportunity to try things out that have not been done this way before, and it's exciting not knowing where this will take you/us, or the audiences. It has been challenging embracing experimentation and iteration. Innovation cannot be perfect by its very nature, and it is liberating to embrace this – though it has been a sometimes painful process learning this!.
Robot Selfie started as an idea in a conversation between our Artistic Director Seth Honnor and Creative Technologist Andy Wood walking down the street observing the people and buildings around them. The idea of capturing people's faces via CCTV and then painting outlines of those on the wall, creating a crowd scene of the public, taking up space and being celebrated, but also a comment on our security, privacy, facial recognition and all the complex issues that come with that idea. When the pandemic hit it was an easy decision to take the challenge out of the work. It was not a time to provoke. We wanted to make it something light, playful, novel and fun, where people had agency, and something to bring us together.
We went on to share a vision of adapting Robot Selfie using empty indoor spaces with an In Situ partner, Freedom Festival, and together with Threshold Studios they commissioned us as part of their Digital Democracies programme, we called this version A Portrait Without Borders. In September 2020 we drew 1000 faces on the empty stages of Hull Truck Theatre and then Northern Stage. Theatre staff returned to their venues for the first time in months to deliver this work, we worked with them remotely, and it felt special to be part of bringing people back to work and to bring audiences together.
We knew we had the software and AI working well, and we had built a prototype of the drawing robot. But what we didn't know yet was how to scale it up for outdoors. We were making good progress, but team resilience was low and Covid kept delaying us starting this next phase of R&D. After several false starts, an international computer chip shortage and some follow-on creation budget from Without Walls we built Robot mark 1.
Fast forward to May 17th 2021, Chapelfield Gardens Norwich. The very first day legally possible for artwork and audiences to meet in real life post lockdown. It's Norfolk & Norwich Festival, Robot's premiere and it is absolutely pouring with rain. I mean torrential. It was a tough few days.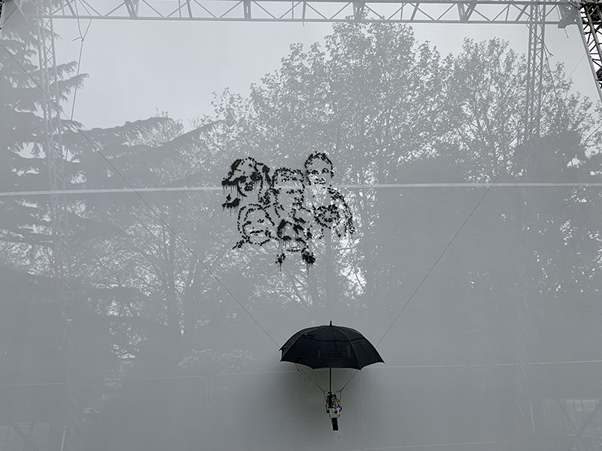 But watching people meet the robot and see the mural emerging told me what people find interesting and fun. And how people connected, how they engaged with the work online when they were submitting their faces to when they saw it in person.
It helped us develop how we talk about the project and set expectations. And to extend our invitation to audiences not only to play, but to come with us on our journey of innovation and the messiness of all being in this together, of collaborating, and not really knowing the whole outcome.
Perfection is not the goal, but experimentation, iteration and playing is fun, and there is value and joy in it.
News
Galvanising Ambition | Blueprint 2023  6 artists and companies join our annual Blueprint programme, which...